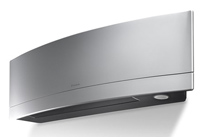 Wall Mounted
The wall unit is mainly used in small offices, server rooms, domestic applications. This is often the quickest to install and the cheapest to purchase which means that it normally has the lowest installation price. This type of unit is hung on the wall above head height and blows hot or cold air into a room from one louvre. The outdoor unit is usually located on a roof or hung on a wall on the outside of the building.
---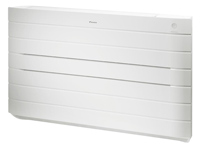 Floor or Ceiling Mounted
This type of indoor unit can be installed on the floor or at high level and is ideal when there is little wall space available. The floor mounted option can replace a radiator with the added advantage of heating or cooling without water. The high level option is usually suited to communications or server rooms offering better air distribution and larger cooling outputs.
---
This type of indoor unit is commonly found in shops, restaurants and offices. It is installed within the ceiling void and only the white facia is visible to the user. There are options for 2,3 and 4 way blow so can be installed close to a wall or in the middle of a room.
---
This is the most discrete system to have installed as all the user sees are diffuser ducts in the ceiling. The ducted system is mounted within a ceiling void and ductwork is attached to carry the air flow to the diffusers. This gives excellent coverage and a comfortable environment for the end user.
---
The multi-split system allows you to have several indoor units connected to just one outdoor unit. This option is beneficial when outdoor space is limited and uses less energy than having lots of separate split systems. These are common in houses and small buildings.
---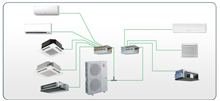 VRF Variable Refrigerant Flow System
This type of system is common in large offices, retail units and hotels. You can connect up to 64 different indoor units to one outdoor unit and can provide simultaneous heating and cooling whilst also being very energy efficient.
---
These systems provide heating and cooling with a percentage of fresh air and are commonly found in small offices and retail stores. The packaged unit is sited on the roof and air is distributed via supply and return ductwork to and from the building.
---
Heat recovery systems are one of the most efficient and cost effective ways in which to heat a space and can decrease your carbon footprint. This type of system can save up to 30% capital costs on heating and cooling. Heat recovery is the collection and re-use of heat being produced from any process that would otherwise be lost. This type of unit is a ventilation system which extracts stale air and then recovering the heating or cooling energy to either warm or cool the incoming fresh are supply. The Carbon Trust provide interest free loans to help finance energy efficient projects, for more information on this you can visit http://www.carbontrust.com
---
A computer room air conditioning (CRAC) unit is a device that monitors and maintains the temperature, air distribution and humidity in a network room or data centre. CRAC units are replacing air-conditioning units that were used in the past to cool data centre's.
---
This type of system is common in large commercial and industrial applications. They are available in small and large capacities and can be air or water cooled using either scroll or screw compressors.
They can be connected to multiple fan coil units or heating/cooling batteries for Air Handling Units.